T1-B Light Hovertank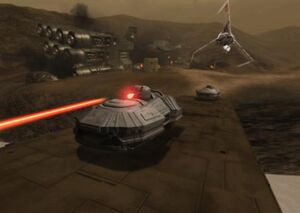 Placeholder image, showing the T1-B in the Lok Wastelands loading screen.
Usage
Faction
Rebel Alliance
Role
APC, Assault
Technical Information
Positions
Tank Commander (missile pod), Gunner (laser turret)
Equipment
Dual Laser Cannon Turret, Missile Pod
[Source]
Although equipped with little armour in order to preserve its agility and speed, the Yutrane-Trackata T1-B Light Hovertank was not to be taken lightly. Armed with a pod loaded with homing concussion missiles and a dual-laser cannon turret, the T1-B helped immensely in neutralizing the Imperial air threat, while also packing a punch against infantry. While vulnerable to enemy armour at range, in one-on-one encounters, it excelled at supporting Rebel armour and working in combination with heavily armed infantry.
In First Strike, a fully manned T1-B excels at taking out infantry and aircraft, and can even take on the Firehawke with some clever maneuvering - it performs best at point-blank range, as its missile pod is highly inaccurate against ground targets at range. Its missile pod can be reloaded with a generator.